Gambrel Annex
2082 E Main St, Ashland, OR 97520
Available for viewing 7 days a week, 9am-7pm
An initiative of Gambrel Arts, a 501(c)(3) not-for-profit organization based in Southern Oregon, the Annex's mission is to nurture diversity and creativity in our region by offering artists studio space, showcasing their work through exhibitions and events, and providing opportunities for short-term residencies.
Learn more at gambrelgallery.com/annex
Featured Artists
Miri Admoni
All That Jazz
Artist Statement
All That Jazz is a colorful, original installation set in the open air in the center of Ashland.
It invites you to come and engage with art in nature and to interact with the work.
People, young and older, will find it enjoyable, a place to play, read, write, meditate, or dream.
About the Artist
Miri Admoni (b. 1954 in Tel Aviv, Israel) is a mixed media, glass, and jewelry artist, who shares her life between Israel and the USA. Arts and crafts have always been a part of Miri's life since childhood. Her formal education was in graphic design, where she worked as a freelance designer and producer of unique recycled paper products and specialized in packaging.
During 2004-2010 Miri studied various glass techniques, and from 2011-2012 she studied metalsmith in a private studio and started to create jewelry with glass. In 2012 Miri won the jewelry award at Bullseye's Glass Emerge competition. In 2015 she participated for the second time at the Israeli Glass Biennale at Eretz Israel Museum, where her work Desert Spirit has been acquired by Baroness Ariane De Rothschild. In 2018 she participated in a professional residency at North Lands Creative Glass, Scotland, UK. In 2021 she participated in a professional residency at Pilchuck Glass School, Washington, USA. Nature has always been the greatest source of inspiration. Initially, Miri was inspired by her surroundings in Israel, the rich and diverse nature scenes between the Mediterranean Sea and the Judean desert. That led to the creation of the Alchemy glass series and the collaboration with Bedouin women artists. Now Miri lives and works from her home studio in Oregon, where she continues to explore her relationship with nature.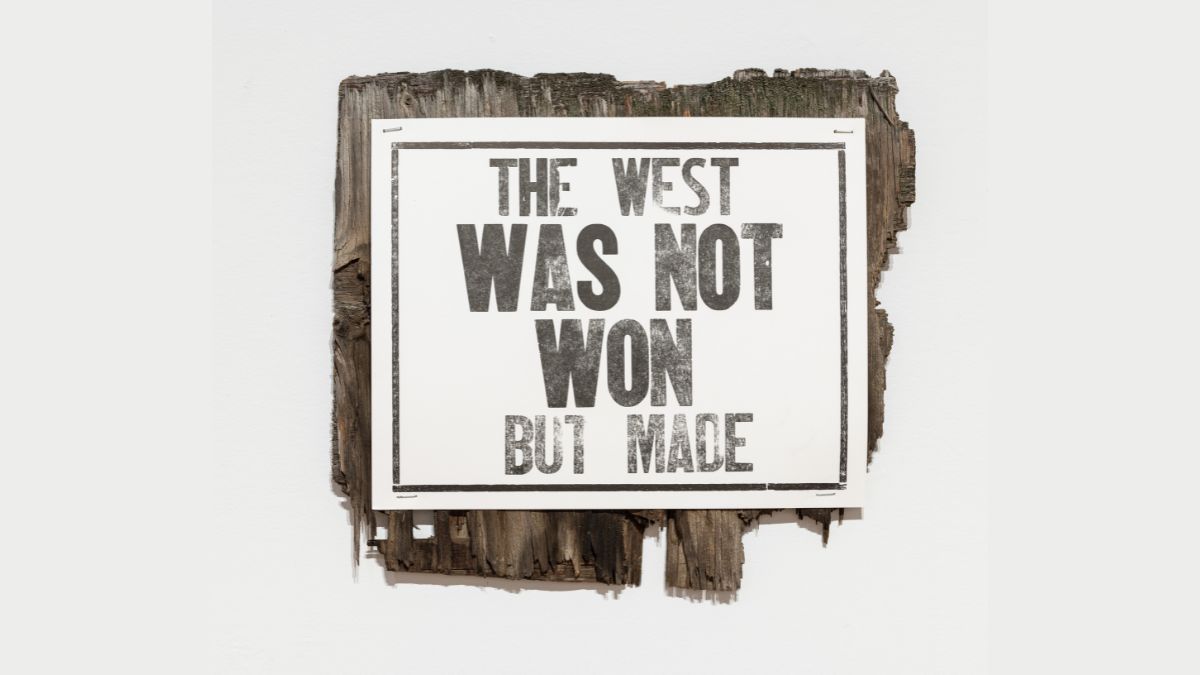 Hannah Bakken Morris
Words to that Effect
Medium: Letterpress prints, metal mesh, found wood panels and posts, staples, nails, metal mounting hardware, digital photographs
Date: 2020 – 2023
Artist Statement
Oregon state law requires that no trespassing signs must be "no smaller than eight inches in height and 11 inches in width, contain[ing] the words 'Closed to Entry' or words to that effect". Adhering to sign standards, this collection of letterpress prints mimic signs of land ownership and control, but extend invitations rather than messages of exclusion. They send calls for self-regard and accumulatively draw attention to the fence as an enabler of settler colonization, attention to the illusion of land ownership, and attention to the history of the American West as a constructed entity.
Words to that Effect is an ongoing project of site-specific installations that catalyzes a new engagement to the fence in the American West and its accompanying signs as a sprawling symbol of state settler powers. It provokes an imagining of release and possibilities to dismantle exploitative systems of people and land. All bodies are implicated in the aggressive political, environmental, and economical unrest. It encourages and invites all to nurture a radical ethico-political engagement with our individual accountability – this is to say that this engagement is about accommodating and recognizing and allowing for sensitivities to other ways of being and experiencing. This is to recognize that this type of engagement is open-ended, dynamic, and has no solid assurances or outcomes and is unsettling in its nature – but, it is a process all must begin to engage in with forthrightness and without seeking reward. By seeing the structure that holds all captive and practicing a nurturing accountability to varied experiences and the un-commonalities between them all, a constructive potency can be cultivated that can guide a liberation of possibilities outward from the power and limitations of a settler state.
About the Artist
Hannah Bakken Morris hails from Malheur County, OR and works in print media, performance, sculpture, photography and installation to explore identity, the body, landscape, and place. Her works comment on land use in the United States and how the historical and contemporary narratives of the American West intersect with constructions of identity, economies, nationhood, and the environment. She received her BFA in Studio Art from Southern Oregon University in 2017 and her MFA in Print Media and MA in Critical Studies from the Pacific Northwest College of Art in 2020. Hannah is currently the Assistant Director for the Center for Contemporary Art & Culture at PNCA and when not working she seeks to commit her time to riding her bike, gardening, fly fishing, cooking, practicing karaoke in her truck, screen printing shirts and sewing cycling soft goods for her small business with her husband and spending time with her pets Ed, Al, and Wallace.
Lisa Jarrett
Migration Studies (No. 49, The crime = running, a constellation)
Medium: Textile flag printed from cyanotype, 109 in. H x 144 in. W
Date: 2023
Artist Statement
Migration Studies (2018-present) is an ongoing project. I work with drawing, sculpture, and installation to examine hair care and beauty routines within Black culture as a bridge to themes about inventing our own survival. These routines are rituals wherein we claim beauty standards existing beyond and before dominant narratives. I use the tools of these ritual practices as drawing materials whose histories both trace and extend our lost languages and homelands. These material and formal choices reflect my broader interest in repetition and reproduction as tools of consumer culture and cultural preservation. I am curious about how our personal/private routines (and the attendant products and purchases) live within our imaginations, conversations, and stories while also connecting us to our collective past and future. The art object is the transformative mechanism by which different systems of value become visible and knowable.
About the Artist
Lisa Jarrett (she/her) is an artist working in social and visual forms. Her intersectional practice considers the politics of difference within a variety of settings including: schools, landscapes, fictions, racial imaginaries, studios, communities, museums, galleries, walls, mountains, mirrors, floors, rivers, and prisms. She recently discovered that her primary medium is questions; the most urgent of which is: What will set you free? She is co-founder/director of projects like KSMoCA (Dr MLK Jr School Museum of Contemporary Art); the Harriet Tubman Middle School Center for Expanded Curatorial Practice in NE Portland, OR; and Art 25: Art in the 25th Century. Lisa exists and makes work within the African Diaspora. She lives in Portland, Oregon where she co-authors social practice projects and continues her 14+ year investigation into Black hair and its care in various forms. She is Associate Professor of Community and Context Arts at Portland State University's School of Art + Design where she teaches classes in Art + Social Practice.
Learn more at lisajarrett.com
Annabel Lee Allen
Enchanted Mushrooms
Medium: hand-thrown porcelain
Date: 2023
About the Artist
Annabel Lee Allen's passion for pottery began at the age of 17 when she found a potting wheel in the basement of her Boarding School, Hyde, in Bath, Maine. She was self-taught during her time at Hyde, which allowed her creative process to develop. She then went on to receive formal instruction at Bennington College, where she learned to throw large forms and the fundamentals of production pottery. She continued her education at Southern Oregon University with the brilliant mentor Jim Romberg for five years. She also spent several years creating and teaching at Lil Street studio in Chicago. She has always been intrigued by organic forms in nature, fractals, seashells, decay, and symmetry. These themes recur and continue to inspire her work today. She has been a potter for over 38 years, and she has loved every minute of it.
Learn more at TikTok: @butterfliesunicornz Instagram: @annabelallen
Chella Maize
Something Burning High Up in the Air
Medium: Plaster, burlap, acrylic paint
Date: 2023
Artist Statement
A hundred and fifty years ago the horse depicted in this sculpture lived, breathed, and was conscious. Now, I invite you to cuddle with his ghost.
Emile Zola's 1885 novel Germinal is set in a coal-mining town at the end of the 19th century. Zola describes the brutal oppression of workers in this industry as they struggle for a better quality of life.
In the mine lives Bataille, a pit pony (a horse brought below ground as a baby to work pulling carts in a mine).
Now, with advancing years, his cat-like eyes sometimes took on a far-away wistful look. Perhaps in his misty dreams he could dimply see the mill near Marchiennes where he was born, by the banks of the Scarpe amidst broad, wind-swept meadows. Something used to burn high up in the air, a sort of huge lamp, but his animal memory could not quite recollect what it was like. And there he stood shakily on his old legs, vainly trying to remember the sun. (Zola, 68)
Today, on the top floor of an abandoned dormitory, Bataille rests. Each morning, the sun rises in the window above his head and bathes him in light.
Across town, Bataille rests with his body on the earth as flowers and grass bury him in smells, soil, and life.
About the Artist
Chella Maize is an artist who lives in Ashland, OR. Their practice is interdisciplinary, including 2D mark making, sculpture, installation, performance, and social practice. They recently co-taught an Honors College class at Southern Oregon University titled "Contemporary Expansive Art Practices" which culminated in a curated exhibition in an abandoned dorm alongside a published zine documenting the artist run project. Their creative and engaged work has helped foster a community of both artists and non-artists. Chella was recently interviewed on Jefferson Exchange regarding their position as a current artist in residence with Recology Ashland. They are also working with a group of Advanced Documentary students to document the inaugural cohort of artists in the AIR. Their work has been exhibited in the Meyer Memorial Gallery, the Thorndike Gallery, the Retzlaff Gallery, and the Boise Cascade Gallery, all parts of the Ashland Based Center for the Visual Arts galleries in 2020, 2021, and 2022 and the Liberty Arts Gallery in Yreka, California in 2021. They are receiving a BFA in Studio Art with a minor in Ethnic and Racial Studies from the Southern Oregon University Honors College in June 2023.
Xavi Panneton
Deep Space Murmuration
Medium:
Date: 2023
Artist Statement
The black & grey-scale background is composed of broken geological shapes which entered into my visual vocabulary from a studio accident. I had some old plastic shelves that broke one day, sending my paint crashing to the floor. Upset, I decided to smash them to bits. I noticed the interesting shapes of the pieces and saved them to arrange into compositions, which I then photographed and turned into digital graphics to use as layers in my painting works.
The colored murmurations in the foreground are derived from my ongoing photographing of water ripples and love of the living patterns reflected on the surface of water in different settings. Lakes, ponds, rivers, calm, windy, sunny, cloudy. The subject provides infinite visual interest.
I have a history of creating work with an unlimited color palette, but lately I have been interested in creating works with more focused, limited color palettes which create specific moods and high visual impact.
About the Artist
Contemporary American Painter, Muralist, and Designer
Xavi Panneton, born 1977, is an artist with an evolving aesthetic where abstract, graffiti, and visionary art meets modern design. He approaches his craft with a unique perspective made possible by his history of creating works across many genres. He is presently utilizing experimental processes that embrace both technology and mixed media to advance abstract expressionism for the 21st century.
Learn more at xaviart.com
ahuva s. zaslavsky
12321…GO!
Medium: Clay, iron oxide wash, duct hose tubing, metal
Date: 2023
Artist Statement
This work is based on a children's hand clapping game. By counting 1,2,3 forward and backward, it is an infinite game with no beginning nor end, and creates rhythm and musicality. When two people play a clapping game their hands create a circle. They touch, they look into each other's eyes and when they get confused, they burst into loud laughter. Then start again.
I wanted to mimic this game by creating a circle of clay columns and placing it outdoors to invite ideas of playgrounds and play. I am curious about concepts such as places and spaces having their own essence and how their physicality impacts people. I hope visitors will experience the circularity and rhythm of the sculpture by walking in, around and between the installation and also interact with the natural environment it is placed in.
My work is grounded in a personal interpretation of the Golem in the Jewish mythology. Golem in Hebrew means 'raw material' but also pupa, the transformation stage of the insect between immature and mature stage. According to the myth, the Golem was created from raw clay dug from the river bank. This work refers to the story in several ways.
I am attracted to the "imperfect" and "unfinished" aesthetic. One can see the finger marks, the rawness of the piece, the "defects" and "failures." I see beauty in the process of making, where things are emerging, transform, take shape. During the making, I am never sure where the work will lead me and how the end result will look like. This way of working leaves room for exploration and for problem solving.
Like palms reaching up to the sky, clay emerges from the ground and rises above it, forming formeless shapes that look like they were built by children and are about to collapse. But just like kids, they are not as fragile as they seem, but rather strong, confident and playful.
About the Artist
ahuva s. zaslavsky lives and works in Portland, Oregon. ahuva graduated from The University of the Negev with a BA in behavioral sciences and completed her MFA in Visual Studies at the Pacific Northwest College of Art, earning the LR Visual Studies MFA Thesis Award. ahuva's multimedia works are examinations of the relationship of space and place to memory and trauma. Through painting, printing, sculpting, writing, and other mediums, her investigations permeate the social and domestic, the cultural and psychological, historical and environmental. In her recent work, ahuva grounds her personal interpretation of the Golem in Jewish mythology which includes ideas of circularity, cycles, dynamics of destruction and construction, and the interrelationship between the creator and creation. ahuva's work has been shown locally and nationally. ahuva completed the Art/Lab fellowship in 2022 and was named to GLEAN Portland's 2022 artist residency. ahuva is the author of Between These Borders Wonders A Golem (First Matter Press, 2022).
Learn more at: instagram.com/ahuvaz